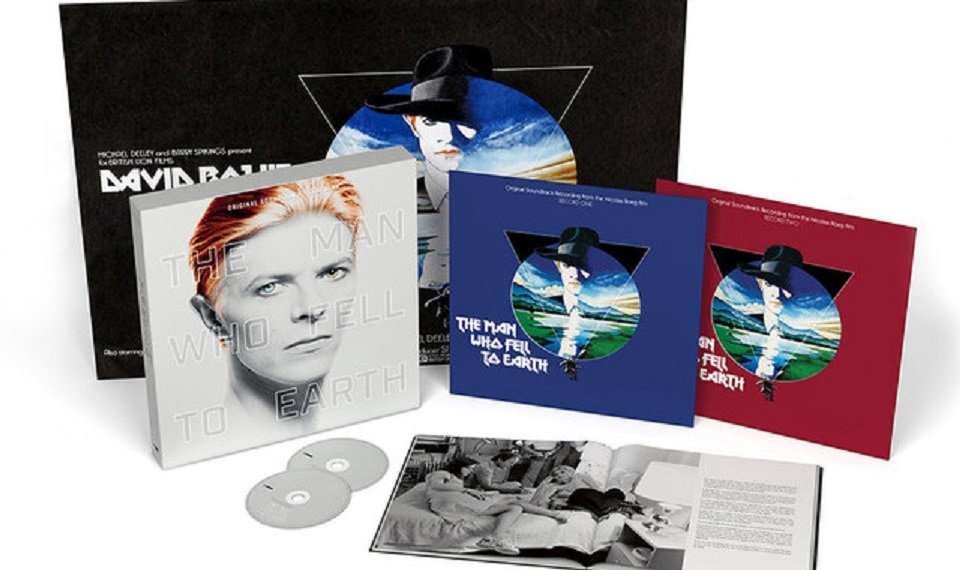 ---
La colonna sonora de L'uomo che cadde sulla Terra con David Bowie esce in edizione deluxe rieditata da Universal. Eccone la recensione di Federica Marcucci
Che suono fanno gli alieni?
Nell'anno in cui David Bowie se n'è andato, lasciando immediatamente dietro di sé le lyrics "Look up here, I'm in heaven", i fan celebrano il 40esimo anniversario de L'uomo che cadde sulla Terra, restaurato per l'occasione. Consacrando definitivamente il mito dell'alieno Bowie-Ziggy (alter ego già ucciso, ma mai dimenticato), il film mostra una creatura perduta, allucinata, che si incarna nel caratteristico aspetto androgino del cantante nella sua prima, indimenticabile performance cinematografica.
Per anni irreperibile a causa dello smarrimento del master, ora la colonna sonora de L'uomo che cadde sulla Terra è finalmente disponibile su CD e vinile grazie a Universal: una serie di composizioni che vogliono enfatizzare il sentimento di straniamento del film di Nicolas Roeg, tra le quali spiccano i pezzi inediti e gli arrangiamenti del membro dei The Mamas and the Papas John Philips, insieme al tastierista giapponese Stomu Yamashta. Tra questi vogliamo ricordare il riarrangiamento di una popolare canzone del 1960, Hello, Mary Lou, che, perdendo ogni tinta amoroso-sentimentale, si colora invece di sfumature sessuali traboccanti di esasperazione.
Si tratta di un percorso che riesce a cogliere perfettamente la folle crisi emozionale in cui versavano gli Stati Uniti negli anni '70 e a cui Bowie, proprio come il suo personaggio tragicamente naïf, è estraneo rimanendone vittima, nella finzione cinematografica come nella realtà. La trasformazione fisica e psicologica di Thomas Jerome Newton ricorda direttamente la metamorfosi che stava vivendo il suo interprete che, spogliatosi degli abiti sgargianti dell'alieno Ziggy, si preparava a indossare il luttuoso bianco e nero di The Thin White Duke. Sono gli anni della paranoia del "weekend di Los Angeles", quello di Station to Station, della cocaina, in cui David Bowie resta intrappolato nel cinismo di una società che non gli appartiene scrivendo liriche dolorose quali "It's not the side-effects of the cocaine, I'm thinking that it must be love". Una paranoia che è accompagnata anche da sentimenti di profonda disillusione, come dimostra la presenza di Blueberry Hill, pezzo di Louis Armstrong e di Gordon Jenkins, e della composizione sinfonica The Planets di Gustav Holst.
Grande assente in questa variegata, forse un po' folle, colonna
sonora è proprio Bowie, eccezion fatta per la versione italiana in cui viene inserita una registrazione della cover Wild is the Wind, contenuta proprio nell'album Station to Station. Una mancanza a cui ha provato a dare una spiegazione interessante quanto azzardata Hugo Wilcken, che nel suo libro David Bowie's Low (33 1/3) parla di una colonna sonora composta per il film da David Bowie stesso, rifiutata dal regista e mai pubblicata… se non in forma metaforica attraverso l'album The Visitor che si vede alla fine del film.
Tracklist
01) Stomu Yamash'ta – Poker Dice 02) Louis Armstrong & Gordon Jenkins and His Orchestra & Chorus – Blueberry Hill (Single Version) 03) John Phillips – Jazz II 04) George Hurst & Bournemouth Symphony Orchestra – Planets, Op. 32 Venus, The Bringer Of Pieace Adagio 05) John Phillips – Boys From the South 06) Stomu Yamash'ta – 33 1/3 07) John Phillips – Rhumba Boogie 08) Kingston Trio – Try To Remember 09) Stomu Yamash'ta – Mandala 10) John Phillips – America 11) Stomu Yamash'ta – Wind Words 12) John Phillips – Jazz 13) Stomu Yamash'ta – One Way 14) John Phillips – Space Capsule 15) John Phillips – Bluegrass Breakdown 16) John Phillips – Desert Shack 17) Stomu Yamash'ta – Memory of Hiroshima 18) John Phillips – Window 19) John Phillips – Alberto 20) George Hurst & Bournemouth Symphony Orchestra – Planets, Op. 32 Mars,The Bringer Of War (Excerpt) 21) John Phillips – Liar, Liar 22) John Phillips – Hello Mary Lou 23) Queen's Hall Light Orchestra & Robert Farnon – Silent Night 24) John Phillips & Genevieve Waite – Love Is Coming Back 25) John Phillips – Man Who Fell To Earth
E' nata ad Assisi nel 1990. Si laurea nel 2013 in Lettere Moderne presso l'Università degli studi di Perugia con una tesi sull'enigmatico romanzo "Parigi" di Lorenzo Viani. Nel 2016 consegue la laurea specialistica in Cinema, Televisione e Produzione Multimediale con una tesi in Cinema e Studi Culturali sul rapporto tra Woody Allen e la musica. Attualmente è redattrice di cinema per GingerGeneration.it e collabora con Spotzer in veste di copywriter freelance.