---
Belfast Calling
"Nessuno si è mai divertito ed esaltato tanto come quando il punk rock dominava sull'Irlanda del Nord. Tra bombe, sparatorie, odio religioso e regolamenti di conti, il punk ha dato a tutti la possibilità di vivere per un ardente e glorioso momento".
Così Joe Strummer, fondatore dei Clash e grandissimo fan del punk nordirlandese, scrisse in un articolo. Ed alla nascita della scena punk nella Belfast negli anni settanta è dedicato il film Good Vibrations, che racconta come, aprendo un negozio di dischi e poi un'etichetta discografica, Terri Hooley riuscì, attraverso la diffusione e l'affermazione del punk, a rivitalizzare una comunità dilaniata dalla guerra civile, offrendo una valvola di sfogo ad una gioventù compressa da violenza e disoccupazione. E non c'era musica migliore del punk per scaricare la rabbia, e non c'era un luogo più adatto della Belfast degli anni settanta per urlare a squarciagola "no future".
Musica e guerra nelle strade si incrociano lungo tutto il film, sin dall'inizio in cui I Saw the Light di Hank Williams sfuma fino a diventare una eco sempre più lontana e ovattata mentre scorrono le immagini velocizzate della spirale di violenza che ha portato alla guerra tra cattolici e protestanti, creando una netta antinomia tra le note rassicuranti del cantautore folk statunitense ed i filmati di palazzi sventrati dalle bombe, marce di protesta e carri armati. E poi vinili e rapimenti, concerti e bombe, tour e posti di blocco, contratti discografici e pestaggi (incisivo, sempre nel solco del contrasto immagini-musica, il coro di bambini che cantano To Know Him Is To Love Him di Phil Spector mentre Terri viene picchiato a sangue).
I registi Lisa Barros D'Sa e Glenn Leyburn scelgono di privilegiare la leggerezza sul dramma guardando a film come The Commitments (stesso concetto della musica come riscatto di un sottoproletariato senza speranze, ambientazione simile, oltre alla similitudine tra Irlanda del nord e Giamaica che ricorda quella tra gli abitanti della periferia di Dublino e gli afroamericani del film di Alan Parker), ma cadono nella trappola della retorica, raffigurando il protagonista in maniera un po' troppo semplicistica e finendo per farne quasi un'agiografia.
Impeccabile nel comporre il ritratto di una stagione musicale è sicuramente la colonna sonora, nella quale trovano spazio il reggae dei Niney The Observer (Blood and Fire) e di Hopeton Lewis (Sounds and Pressure), il rhythm and blues degli Animals (Outcast), il pop melodico di The Shangri-Las (Past, Present and Future e I Can Never Go Home Again), il blues di Johnny 'Guitar' Watson (Gangster of Love) ed il glam rock di David Bowie/Ziggy Stardust (Star).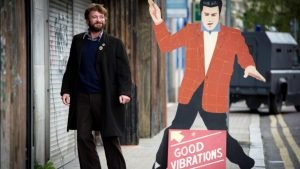 Ma soprattutto il punk, con in primo piano i gruppi prodotti da Terri Hooley, ovvero Rudi (Big Time, I Spy, Pressure's On), The Undertones (Smarter Than You) e The Outcasts (Just Another Teenage Rebel, Self Conscious Over You), ma anche The Saints e Stiff Little Fingers.
Quel glorioso momento di cui ha parlato Joe Strummer non durerà molto, l'ondata del punk si esaurirà in pochi anni ed i gruppi di Terri Hooley, con la parziale eccezione di The Undertones, non riusciranno mai a sfondare, ma la casa discografica ed il negozio di dischi, passando per diversi fallimenti e chiusure, riusciranno a sopravvivere fino al 2015. La guerra civile in Irlanda del Nord finirà, almeno formalmente, nel 2005 con l'annuncio dell'IRA della fine della lotta armata.
SCHEDA TECNICA
Good Vibrations (Gran Bretagna-Irlanda, 2012) – REGIA: Lisa Barros D'Sa, Glenn Leyburn. SCENEGGIATURA: Colin Carberry, Glenn Patterson. FOTOGRAFIA: Ivan McCullough. MONTAGGIO: Nick Emerson. MUSICA: David Holmes. CAST: Richard Dormer, Jodie Whittaker, Michael Colgan, Adrian Dunbar. GENERE: Drammatico. DURATA: 103′
Nato a Bologna nel 1971, si laurea in Scienze Politiche indirizzo internazionale presso l'Università di Bologna. E' un grande appassionato di cinema e di musica rock. Ha suonato per diversi anni il basso e la chitarra in un gruppo ed ha frequentato diversi corsi di cinema e di critica cinematografica. Ha un blog di recensioni di film e serie tv.